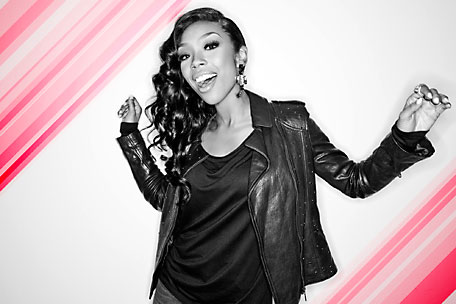 We've all heard the buzz that one of music's most respected talents is prepping for what is rumored to be a monster comeback.
After a year of recording, R&B singer Brandy is finally ready to release her sixth studio album an RCA Records debut, intimately titled Two Eleven in honor of her birthday and the day her icon, Whitney Houston, became her angel.
At the helm of the project is mega producer/songwriter Sean Garrett. He sat down with Sister 2 Sister for an exclusive interview about what he has done to make this new album a timeless masterpiece.
"We developed a new swag on Brandy other than her voice. This generation is about swag; it's about style – a lot more than just singing," explained Sean. "You're not going to listen to this album and say any of the songs could work for anyone but Brandy."
Sean's cocky confidence about the project is sure to make her "Starz" (fans) and music lovers alike excited about what's to come. Many of her fans expressed a dislike for the recent Rico Love produced duet, "It All Belongs to Me," with singer Monica, and were scared it might dampen her comeback.
"Monica and Brandy are both friends of mine and are like family to me, so it didn't even matter what the song sounded like. Just the fact that they both are back and all over the place is the important part," said Sean. "The single set the stage for us to come out and do what we do."
The identity of the guest artist on the album's first single, "Put It Down," is being kept quiet but it's known to be a male artist who "both sings and raps," and is set to release this week. Internet rumor has it that her partner on the track is Chris Brown, but his involvement in the project isn't a secret.
"Bombs [are] gonna fly—you best believe that," exclaimed Sean. "I can't give too much detail, but I can say the one we played a snippet of [on UStream] will not be the first single, but I think it is an amazing song that will be the second or third single. This is definitely going to satisfy her fans and introduce Brandy to a whole new generation."
The project has celebrities like Jennifer Hudson, Chris Brown and Jill Scott tweeting about how anxious they are for the album, which Sean says is full of big ballads and club bangers.
"I swear to you she sounds incredible. You are going to love the entire album. There are definitely six No. 1 hits on the album," said Sean. "We had the opportunity to play with her voice and have fun."
To read more about the chemistry between Brandy and Sean in the studio, the pressure of producing such a highly anticipated comeback, and why in his eyes she is a legend and icon in the music industry pick up the July 2012 issue of Sister 2 Sister.
— Marcus A. Williams
Comments
comments