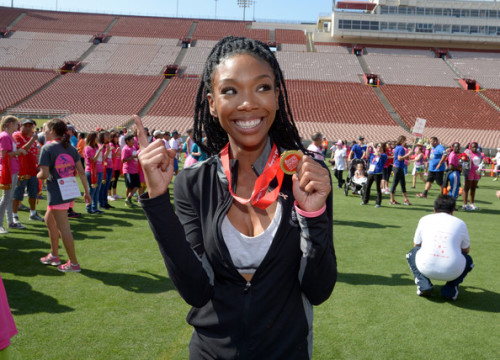 Brandy completed a 3.2 Mile run at the 21st Annual EIF Revlon Run Walk For Women; she also sang a beautiful version of the USA National Anthem, "The Star Spangled Banner". Brandy was joined forces with Halle Berry, Bruce Willis, Matt Goss and a host of others for the great cause.
The nationally acclaimed Entertainment Industry Foundation Revlon Run/Walk for Women has touched the lives of millions of people through increased awareness, education, research, and diagnostic treatment services.
Created in 1994 by Lilly Tartikoff, Ronald O. Perelman and the Entertainment Industry Foundation, the EIF Revlon Run/Walks (Los Angeles & New York), along with their sponsors and participants, have distributed over 70 million dollars in the fight against women's cancers.
Photos:
Video:
Comments
comments