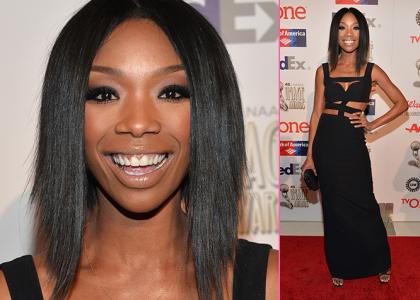 Brandy attended the NAACP Non-Televised Awards Ceremony on Friday (February 21). The "Boy is Mine" singer headed to the Pasadena Civic Auditorium where she hit the red carpet in a sleeveless black cutout gown. Brandy won an Image award for "Best Supporting Actress In A Comedy Series" for her role on BET's "The Game."
Sharing photos of the big night, the 35-year-old star revealed that she took her mom Sonja to be her guest for the occasion.
Overjoyed at the event, Brandy wrote,
"#naacp dinner! My award was presented here tonight for best supporting actress in a comedy series.. And guess what? #ireceived!! God is really amazing. #thegamebet has been an amazing experience for me. To be recognized for my work and expression as #ChardonnayPitts is an honor and a blessing. Thank you to the Image awards for your recognition. This is truly a step in the path of Gods will for me!!! #35."
Enjoy the pictures of Brandy at the 45th NAACP Image Awards Non-Televised Awards Ceremony (February 21).
Article Courtesy of: http://gossipcenter.com/brandy/brandy-nabs-naacp-image-award-1062405 
Comments
comments