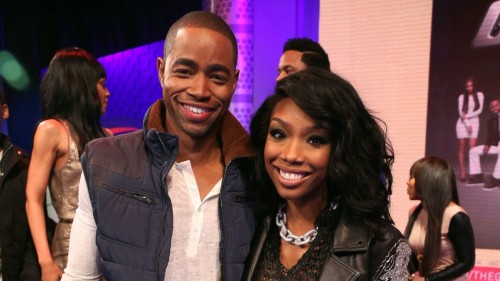 Brandy's, BET "The Game" co-star, Jay Ellis, interviewed with UrbanBridgez.com about season 7 of "The Game", the 2013 American Music Awards, his favortie music and his co-star Brandy. Check out a snippet of the interview below, and click here to read the full article.
UrbanBridgez.com: What can we expect on Season 7 of The Game? 
Jay Ellis: This season of The Game is going to be amazing. We're bringing back an old character, Kelly Pitts, which is going to be really amazing. We start the season with my character Blue and Lauren London's character, Keira, not together. They're trying to figure out what dating in this city is like when they're not together, but they're constantly crossing each other's paths.
UrbanBridgez.com: You costar with singer Brandy on The Game. How is it working with her? Based on her Instagram videos, she sings a lot on set! 
Jay Ellis: Brandy sings every single day, and it's the most amazing thing ever. She sings everything! It's not like she's just singing Brandy songs. Actually, I don't know if I've ever heard her sing one of her own songs on set. She's a person who loves the craft. She is so inspired by so many other artists—whether they're from today and are relevant and current, or from the past. She's constantly walking around singing songs that are 30-, 40-, 50-years-old and three- or four-days-old. It's really cool to see that, to see her inspiration and to see her be touched by so many people. And then when she does it, she then touches us and inspires us.
UrbanBridgez.com: Wow! Did it take her a while to be open and sing around everybody or was she always singing on set? 
Jay Ellis: Since I've been there, she's always been like that. She was on The Game a season before me so I don't know what she was like before, but for me, she's always been that way. She's very, very open, giving, kind…she always wants to have fun. At the end of the day, we get to have fun when we go to work. We get to make pretend that we're these other people. Although we do have heavy moments on the show, we have far more light moments and I think we always remember to have fun on set because of Brandy.

Read More at
:
http://urbanbridgez.com/ubgblog/2013/11/26/ub-interview-jay-ellis-from-bets-the-game-talks-new-season-amas-2013-music-highlights-more/
Comments
comments