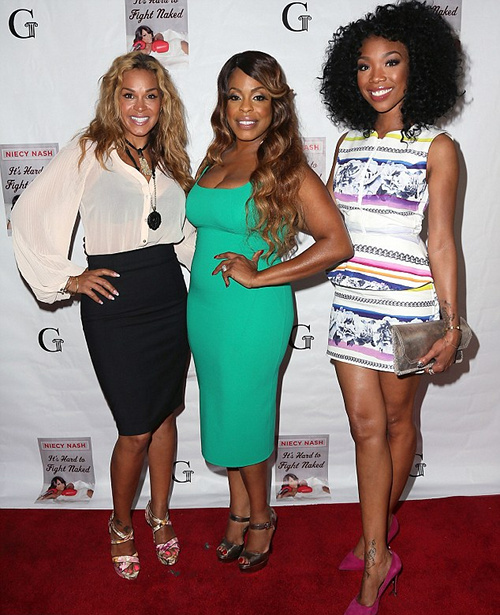 **Article Courtesy of TrueExclusives.com**
Yesterday at the Luxe Rodeo Drive Hotel in Beverly Hills was an extremely joyous evening for Actress/Comedian Niecy Nash. The "Soul Man" star celebrated the release of her new book "It's Hard To Fight Naked' with family and celebrity friends including a stunning performance by R&B singerBrandy, and appearances by Actress Elise Neal, Jazz Songbird Jill Scott and many more. In the spicy literature the faboulous marriage counselor dishes information on every aspect and stage of relationships.
"I wrote a book with the hopes of encouraging & inspiring you to receive God's best for you. I don't claim to be an "expert", I'm just a woman who has been through it! I've been desperately single, an internet dater, married, divorced, and happily re-married. I want to share all of these crazy experiences with you! I am also providing REAL strategies on how to get and maintain the relationship you deserve." Nash says
Since it's May 7th release, the Clean House Diva has been receiving outstanding reviews and testimonies from various public figures, and everyday average women have been expressing the valuable lessons learned about their relationships. We have just started reading the book ourselves, and must say it's amazing to realize that everyone has their own share of marital issues, It's the decisions you make on resolving them that make a difference. Niecy definitely gives us a new insight on love.
" You will learn a lot about yourself, the opposite sex, how traditional myths have gotten us off track, and ultimately how hard it is to fight naked. If you start naked you might avoid a fight altogether! "
**Article Courtesy of TrueExclusives.com**
Comments
comments