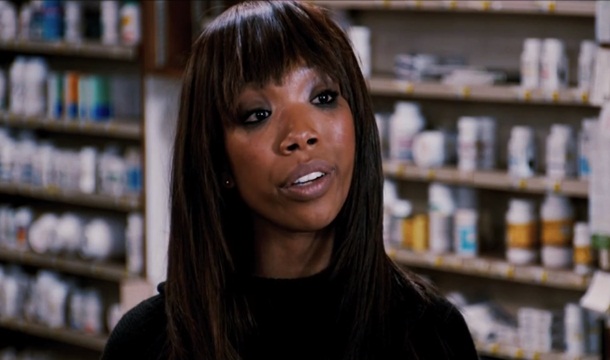 From Lionsgate, Temptation opened to a pleasing $22.3 million to place No. 3. Women fueled the film's performance, with females making up 70 percent of the audience and moviegoers over the age of 25 making up 79 percent of those buying tickets.
Receiving an A- CinemaScore, Temptation stars Jurnee Smollett-Bell (Friday Night Lights) as a restless marriage counselor who begins a dangerous affair with a social media mogul (Robbie Jones). Lance Gross, Kim Kardashian, Brandy Norwood &  Vanessa Williams also star.
"There's no fatigue at all for Tyler Perry," Lionsgate executive vice president of distribution David Spitz
said.
Lionsgate targeted women and African-Americans in marketing the film. The studio also took advantage of Kardashian's celebrity profile. It is the fourth Perry film that Lionsgate has released over Easter weekend.
Below are the top 10 estimates for the March 29-31 weekend at the domestic box office.
1. G.I. Joe: Retaliation, 1/3,719, Paramount/MGM/Skydance, $41.2 million, $51.7 million
2. The Croods, 2/4,046, Fox/DreamWorks Animation, $26.5 million, $88.6 million
3. Tyler Perry's Temptation, 1/2,047, Lionsgate, $22.3 million
4. Olympus Has Fallen, 2/3,106, Lionsgate/Millennium, $14 million, $54.7 million
5. Oz the Great and Powerful, 4/3,324, Disney, $11.6 million, $198.3 million
6. The Host, 1/3,202, Open Road Films, $11 million
7. The Call, 3/2,439, Sony/TriStar, $4.8 million, $39.5 million
8. Admission, 2/2,161, Focus Features, $3.3 million, $11.8 million
9. Spring Breakers, 3/1,379, A24 Films, $2.8 million, $10.1 million
10. The Incredible Burt Wonderstone, 3/1,575, Warner Bros./New Line, $1.3 million, $20.6 million
Comments
comments