"Tyler Perry's Temptation: Confessions of a Marriage Counselor" is notable for a number of reasons, not the least of which is that Perry isn't the star of his latest film. That honor goes to "Friday Night Lights" favorite Jurnee Smolett-Bell, as well as Lance Gross, Vanessa Williams, Brandy Norwood, Robbie Jones and Kim Kardashian. (Yes, that Kim Kardashian.)
"It's about a woman who starts to get restless in her relationship and her choice to be with another man has a huge effect on the rest of her life," Perry, who wrote, directed and produced the drama, said in a statement. "She goes on a journey -– in her career and in her marriage -– and she ends up in a very different place than she expected."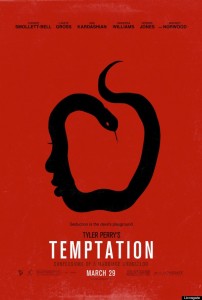 "Confessions of a Marriage Counselor" is the first film Perry has directed without also appearing in as co-star since 2010's "For Colored Girls," and like that drama, "Temptation" has a stylish and minimalist poster. The Huffington Post is happy to debut the art, which you can find below.
If the image of a snake curled into the shape of an apple (as well as woman's face) against a red background seems to slightly provocative, that's no accident. According to the director, "Confessions of a Marriage Counselor" is "one of the most provocative movies" he's made, "sexually and otherwise."
"There are a lot of people who struggle in their relationships. They make bad choices about their marriages. They get divorced. And so many of them don't step out of their situation and really think about the consequences of what they're doing," Perry said in the official synopsis for the film. "This movie asks, 'Are you sure you want to do this?' It sends up a flag."
"Tyler Perry's Temptation: Confessions of a Marriage Counselor" is out in theaters on March 29, 2013.
Source: http://www.huffingtonpost.com/2012/12/05/tyler-perry-temptation-confessions-of-a-marriage-counselor_n_2239384.html 
Comments
comments