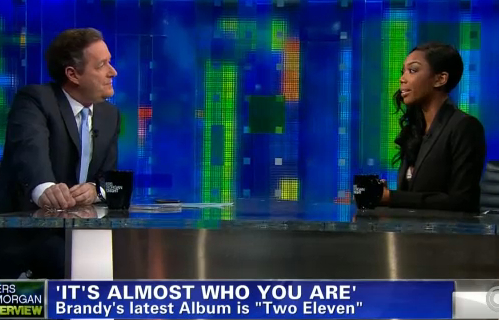 Piers Morgan sat down for an honest and emotional face to face conversation with Brandy. Watch the interview, using the YouTube media player below.
As the 33-year-old singer born Brandy Norwood has recently released her sixth studio album, tonight she opens up about the woman for whom the work honors,Whitney Houston.
With Brandy's CD entitled "Two Eleven," she explains that the numbers signify not only her own birthday (Brandy was born on 2.11.79,) but also the day on which Houston passed, February 11th of this year.
Having known the music icon since the pair worked together on the film "Cinderella" in 1997, Brandy surmises what it must have been like for Houston to have endured the loss of her iconic and powerful singing voice:
"I understand you know, because, I feel like when I don't have my instrument, I don't really have me," she tells Morgan. "Of course there's more to you than your voice. But, that's what you use to share, that's what you use to give. It's your purpose. It's what you were born to do … It probably drove her insane."
Having admittedly lost touch with Houston during the star's final years, Brandy was in the hotel on the night the six-time Grammy Award winner died, and tonight she describes hearing the tragic news:
"I fell to the floor, in tears. And had been crying for weeks, and months after that," says Brandy. "It hit me. It just hit me in ways I can't even, explain."
Comments
comments