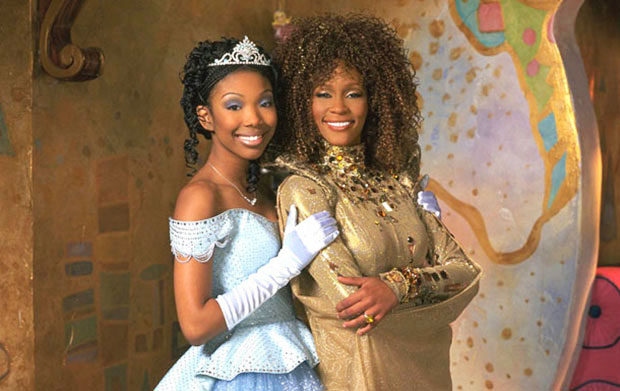 November marks the 15th anniversary of the ABC special and of course, the thing most of us remember as the big moment in Cinderella was when music legend Whitney Houston shared a song with the little cinder girl. And that's Brandy's most precious memory too: working with Houston in the studio and recording their infectious renditions of the classic songs. "We sang a song called 'Impossible.' And [she was] my fairy godmother, it was just so surreal," she says.
But one doesn't just waltz into a studio and bust a groove with Whitney. "I remember certainly the night before, I really wanted to impress her … I was really nervous to sing with Whitney Houston because I didn't want to crack. I didn't want to hit a bad note," Brandy says. And while no one would be surprised at her desire to impress Houston, it's what Brandy did once she was in the studio that impressed the celebrated singer.
Brandy was very aware of Houston's ability to command an entire stadium with a single flourish of her voice, so she knew she'd have to work hard to make sure she made a place for herself in the song. "I told her to get back from the mic so people [could] hear me sing," she says. And while most people would have never dared to say any such thing to a living legend, it seemed to win the young singer a little klout with Houston.
"She was encouraging; I was like her baby … like a little sister to her. That's how she treated me," Brandy says. And according to Brandy, this feeling came from Houston's understanding that Brandy truly looked up to her. "I loved her so much and she felt it. It's almost like she fed off that. I know I'm her biggest fan … her number one fan, besides her daughter and family, of course. She knew that – she knew it from me," she says.

And what could be more appropriate for a role like Cinderella than a meeting between idol and lifelong fan and sometimes emulator behind the scenes? Not much, if you ask Brandy. "Cinderella was about your biggest dreams coming true and at the same time, my dream as Brandy … [was] coming true through Cinderella … It was weird, but so amazing," she says.
Glass slippers are rare, but having one-on-one time with one of the greatest singers of our time is an opportunity so precious, some might have even said it was impossible.
Additional Reporting by Lindsey DiMattina
Follow Kelsea on Twitter @KelseaStahler
Comments
comments