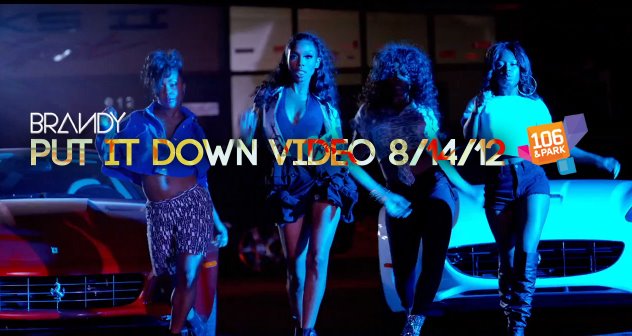 Just a reminder that Brandy, will debut her first solo music video in 4 years tomorrow on BET's 106 & Park and Vevo online. For more information on this historic event, click here.
Be sure to check back here for any information you have missed.
From Previous Post:
Multi-platinum selling Grammy Award-winning R&B/pop singer songwriter and superstar actress Brandy announces today that she will make a guest co-host appearance on BET's "106th and Park" next Tuesday, August 14th to premiere her video "Put It Down" featuring Chris Brown, directed by famed lensman Hype Williams.
The video is also scheduled to premiere across VEVO that same day. In addition, Entertainment Tonight's "The Insider" will be running an exclusive interview behind the scenes of the video shoot piece with Brandy next Tuesday, August 14th, as well.
"Put It Down" featuring Chris Brown is the first official single from Brandy's forthcoming album TWO ELEVEN (RCA/Chameleon Records). "Put it Down" was produced by Shondrae "Bangladesh" Crawford and Sean Garrett and co-written by Chris Brown, Shondrae Crawford, and Sean Garret.
People Magazine raves about "Put It Down": "Brandy really seems poised for a long overdue comeback with this thumping, stuttering banger." And Billboard concurs, "'Put It Down' wisely allows Brandy to showcase her long-missed supremacy…Brandy commands this comeback single and reminds everyone why they missed her so much."
Comments
comments