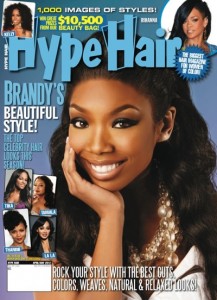 Brandy is on the cover of Hype Hair Magazine for the month of June! Go out and get your copy today!
Source: HypeHair Magazine
R&B songstress Brandy is our June Hype Hair covergirl! We've been watching from the side lines for years, as she has taken over with her incredible talent and now, after a long hiatus from the spotlight, she's back to reclaim her rightful spot amongst R&B's greatest with an impending new album. Brandy's been doing a great job of leading up to the release of it, with two hugely popular singles with friends Chris Brown and Monica. Now, we await her next full-fledged album to drop and we can't wait to hear it! In the meantime, in this month's issue of Hype Hair, we take a look back on some of Brandy's hottest hair looks over the years, as well as what keeps her motivate and why she feels it is her responsibility to inspire through the art of music. Check out the new issue of Hype Hair, on stands now!
Comments
comments