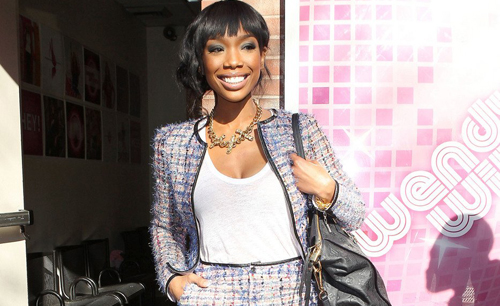 In the Season 5 opener of BET's hit sitcom The Game (Tuesday, 10 ET/PT), retired pro footballer Jason Pitts (Coby Bell) finds himself entangled in a quickie Mexican marriage to a sassy waitress who happens to resemble singer/actress Brandy Norwood, 32.
Jason and Norwood's Chardonnay are "such opposites, but for some reason, they dig each other," Bell, 36, says. "He's so used to going around being king of his own little world, and all of the sudden, there's this beautiful woman who's like, 'Uh-uh — no, no, no, no, no.' She puts him in check."
The role marks Norwood's most significant return to scripted television since her UPN sitcom, Moesha, ended in 2001. "This is what I want to do full time, along with my music," she says. "I have this teenage energy that's driving me to keep working hard. It's just really a blessing to be a part of something as great as The Game and to be doing music at the same time. "
Norwood adds that it helps to have a partner like Bell as she journeys back to acting via her 11-episode run on The Game.
"You can never predict what the chemistry's going to be like, and it just so happened that ours was magical off-set and on-screen," she says. "I'm just really blessed to have met him and worked with him. He's going to be a friend for life."
Bell reacts to the praise as only a true friend could. "Knock it off! Knock it off!" he says.
Yet Norwood insists on giving Bell, who has been on the show since it premiered in 2006, his due. "He's really great," she adds. "He makes you better, and makes you laugh while doing it."
Laughter is essential to Norwood and Bell's on-screen chemistry, as her mouthy Chardonnay spends plenty of time dressing down his pompous, shallow Jason, who in the season premiere reveals a rocky past with race and dating. Specifically, that he's not interested in romancing black women.
Bell had some concerns about how things would go when he started reading the first script, "but once I really got into what the writers are doing with it, I was kind of like, 'Wow, they're turning it upside down and really getting down to the really real of it.' It completely makes sense the way they set it up. All the race stuff they did this season was completely earned."
The Game team hopes for the same success that the show — which follows the exploits of pro football players and the women they love — earned last January when a record 7.7 million watched its BET debut. The network picked up the show after the CW axed it in 2009.
"Every season, the writers kind of up the ante on the craziness and the drama, and that's what people dig," Bell says. "The fact that it did so well was an amazing feeling, and I'm glad it's getting the recognition that we always felt it deserved. We owe a lot of that to BET. They made sure everyone knew that (it) was the thing to watch. "
While Bell basks in the glow of The Game's success, he's also hard at work as a regular on USA's Burn Notice, and Norwood, who started her career as a pop singer in the '90s, is dipping her foot back into the music world.
"I just appreciate the fans for being patient with me and making sure I get it right this time," she says of her album, due this spring. "This is an exciting year for me." She's also in Tyler Perry's movie The Marriage Counselor, which co-stars her brother Ray J's ex Kim Kardashian.
So did she and Kardashian get chummy on set?
"I didn't see Kim. I was hoping I could catch her, but I didn't see her. I haven't spoken to her in a long time."
Comments
comments