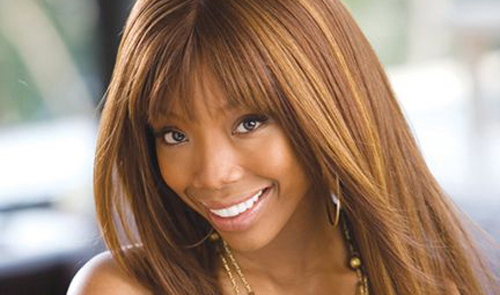 Two months after bringing her here to perform at the SA Sports Awards ceremony, he's calling her back this weekend for his birthday party – along with superstar Keri Hilson.
Mbalula's spokesman, Paena Galane, said yesterday that Norwood had promised to return for Mbalula's 40th birthday bash.
The celebrations were arranged for Saturday night because Mbalula's birthday, April 8, clashed with preparations for May's local government elections.
Galane said: " Hilson is his favourite artist, but Brandy is a friend now and has a special relationship with the minister, which is not commercial – she is family."
Mbalula has invited Norwood, 32, and Hilson, 28, to serenade him at his private party, for 500 invited guests, at an undisclosed location in Pretoria.
The Times understands that Norwood's brother, Ray J, a successful R&B singer in his own right, will also attend the bash, though he's not expected to perform.
Hilson tweeted about her excitement early yesterday morning (South African time), saying: "16-hour flight … yikes! Lots of reading, writing, movie-watching and sleeping (hopefully). South Africa, I can't wait to see you again."
Party organiser Nadia Valente said only the hottest names in politics and entertainment were invited.
On the guest list are Winnie Madikizela-Mandela, former ANC chief whip Tony Yengeni, UDM leader Bantu Holomisa, billionaire businessman Robert Gumede, Generations actress Winnie Modise, former Miss South Africa Joan Ramagoshi, former Bafana Bafana players Lucas Radebe and Phil Masinga, Orlando Pirates chairman Irvin Khoza and YFM radio presenter Dineo Ranaka.
Metro FM's Azania Ndoro and communications adviser in the presidency Zizi Kodwa will be the joint masters of ceremony. Purple, gold, black and white, and royal blue have been chosen for the decor.
"It was difficult to find a big enough venue that could incorporate a stage," Valente said, adding that they were concerned about security because of the high demand for party invitations. Valente said "mostly sponsors and friends" of Mbalula were footing the bill – but she refused to reveal who they were.
The menu includes salads, pap and chakalaka, Cape Malay chicken, lamb shank, malva pudding, chocolate pudding and milk tart. Valente said that the doors would open from 6.30pm and the party would continue until the early morning. Guests will get goodie bags. Hilson, Ray J and Brandy will leave for the US on Sunday.
Brandy Tweeted:

On our way to South Africa for a private bday party! Excited because this is @rayj 's first time! Shout out to @RobbiRogers and the crew:)
Comments
comments